Braemar Seascope is one of the most active broking houses in the sale of vessels for demolition. It was involved in the sale of the largest ship ever to be beached.

The team of expert demolition brokers has an unrivalled wealth of experience which has enabled them to establish contacts not only with the end-users in all the major shipbreaking centres but, as importantly, with the various intermediary channels.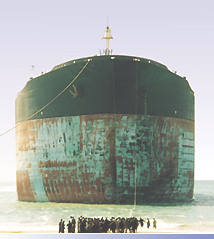 Through this expertise, Braemar Seascope aims to provide its clients with competitive pricing combined with a reliable performance.
The team travels extensively to the shipbreaking centres and is fully conversant with the specialised market formalities which vary from country to country.