Wavespec is a premier marine technical consulting company providing specialist design and engineering services by appointment to oil majors, shipowners, marine operators and shipyards.

Wavespecís core business is in the the initial design and supervision in construction of VLCCs, product carriers, container carriers, anchor handling and offshore support vessels in areas as diverse as Korea, Japan, Germany and Lithuania.

Wavespec is unique among marine consultants in its unrivalled experience in the LNG transportation field.
Several of our expert personnel have been involved in marine transportation since the late 1960ís and have built up experience in the development of containment systems,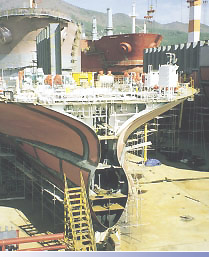 applying this expertise to the benefit of clients involved in LNG vessel construction projects in the major shipyards in Korea and Japan.
The Company also provides support, technical expertise and specialist technical personnel for conversions and refit projects, contract negotiation, specification development, plan approval and construction supervision in both the marine and offshore sectors.
The company provides vessel inspection and surveying capability for all types of vessel.